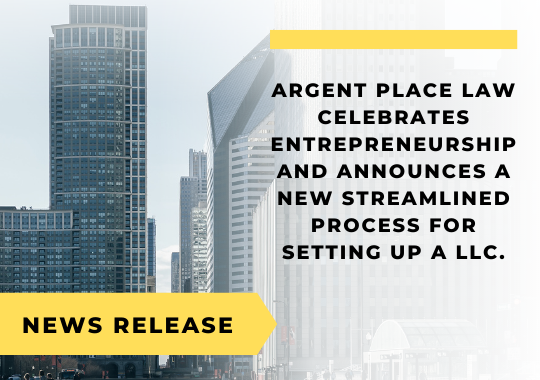 Argent Place Law celebrates entrepreneurship and announces a new streamlined process for setting up a LLC.
NEWS RELEASE
For immediate Release

July 28, 2022

Contact: Russell Sullivan
Communications Director


[email protected]


703-539-2518 Ext 5
Falls Church, Virginia. July 28, 2022 – Entrepreneurship is on the rise in America after a long decline. Now, every month there are over 20,000 internet searches for "Start an LLC" or "Set up an LLC." People are quitting their jobs and setting out on their own in record numbers. Argent Place Law is responding to this positive trend with new user-friendly pages on our website that address do-it-yourself startup entrepreneurs as well as those who prefer to let a real law firm do their business formation work for them.
Argent Place Law works from a vision that in an ideal world there would be a successful entrepreneur in every household, and the Firm works hard to facilitate that vision. Setting up an LLC requires multiple steps and various government agencies, so the process can seem opaque to those just starting out. Argent Place Law provides complete solutions rather than gimmicky online processes that rely on upselling at every step of the process.
Entrepreneurs who want to start their LLC by themselves will benefit from the Firm's resource page at https://www.argentplacelaw.com/starting-a-business-yourself/. State-specific information with links to various state agencies is also available on request. And for those new entrepreneurs who prefer to have a lawyer do the legal work while they concentrate on selling their own products and services, Argent Place Law has a streamlined custom startup process at https://www.argentplacelaw.com/new-business-formation/.
Dr. Michael Mort, Managing Attorney at Argent Place Law, says, "Whether new entrepreneurs form their businesses themselves or use our law firm to help them do it, the attorneys and staff at Argent Place Law salute every new entrepreneur. Entrepreneurs are the real heroes of society, and we want to help them onto the path of success in any way we can."
Argent Place Law is a Business and Intellectual Property law firm headquartered in Northern Virginia with clients worldwide. The firm focuses on the legal needs of entrepreneurs and tries every day to live up to its nickname as "The Law Firm For Entrepreneurs."
Contact:
Russell Sullivan, Communications Director
803 W Broad St, Suite 710
Falls Church, VA 22046
Ph: 703-539-2518
Facebook  Instagram  Twitter   LinkedIn  YouTube