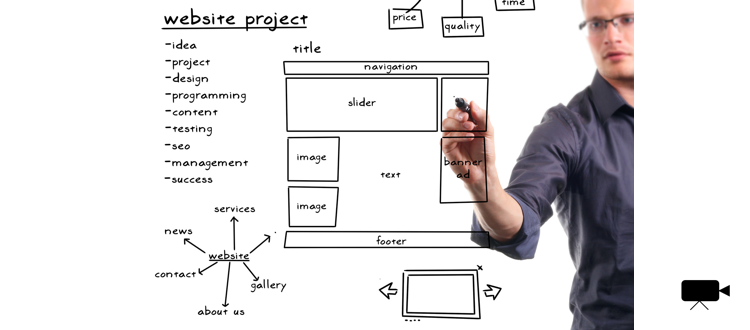 Work Made For Hire: Who Owns Your Website?
[BONUS: I will be talking about Copyright (and Trademark) on Nov 16, 2017 at McLean Business Forum. Join me and 50+ other entrepreneurs and business leaders at 7:00AM, Courtyard Marriott, Tysons Corner, VA. Contact me for more details: [email protected]]
Here's the question for you today: Who owns the content on your website?
Entrepreneurs hire independent contractors to help with a lot projects that are not part of the core competency of their businesses. For example, a roofer wants to spend his time selling and performing on rooking jobs; he doesn't have time to create and manage his own website. So he hire a web developer to do that for him. He also outsources the creation of his logo, and sometimes he hires people to write blog entries for his website so he appears to be a "thought leader" among roofers.
Back to my question: If you outsource the creative parts of your website, who owns that?
The Default Rule
Rules about the ownership of creative works fall under the laws of Copyright. And the default rule is that, if the developer of those creative works in not your employee, then that creator owns the copyright to those works. That means, the person you hired to develop your logo, the logo that is right there at the top of every page of your website, may be the owner of copyright rights to the reproduction, display, and distribution of that logo.
Oops!
Use "Work Made For Hire" Contract To Transfer Ownership Of Your Logo
Although it is the default rule that the creator owns your logo and the blog articles he wrote, there is a way around the default rule: Make sure the contract you have with your independent contractor transfers copyright ownership to you after you pay him for the development.
The language that effects this type of transfer is called a "work made for hire" clause. Sometimes it is left out of contracts that you get from independent contractors. The reasons may be as simple as the fact that the contractor didn't know he formally had to transfer rights to you to make you the owner, or it may be as nefarious as to be intentionally left out so that the independent contract can extract more money from you if you try to use the copyrighted works in a different setting than was originally contracted for, such as when you use a blog post on your Facebook page.
By the way, Copyright law requires that the "work made for hire" clause be in a written contract, signed by both parties. You cannot claim that you had an oral agreement to transfer ownership of the creative work.
Argent Place Law, PLLC is dedicated to the vision of having an entrepreneur in every household, because we believe that only entrepreneurs can save the world! Our mission is to help entrepreneurs manage their business relationships and protect their ideas by using the law to their advantage.  Contact us today!