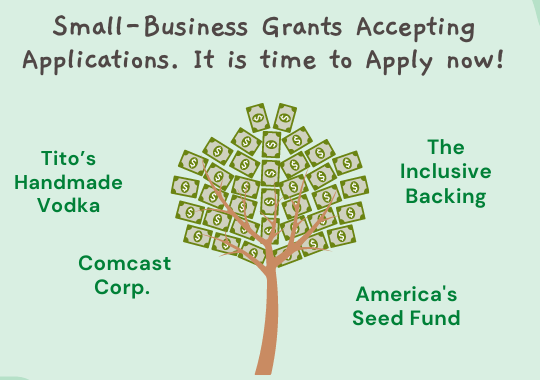 Small-Business Grants Accepting Applications It is time to Apply now!
Austin, Texas-based Tito's Handmade Vodka is celebrating its 25th anniversary in part by awarding 10 small-business owners grants of $25,000 to help support their growth. Small-business owners need to show a meaningful connection to their community, a clear and compelling vision for their business and reflect Tito's values of grit, love, kindness family, meaning and purpose.
On the technical side, the applicant must be at least 21 years old, be based in the United States, have been in business for at least one year (since June 2021) and have earned less than $1 million in revenue in 2021. Applications are open until June 30, and winners will be notified in July, with grants issued in August. Small-business owners can apply here.
Comcast Corp. is also offering small-business grants in both $10,000 awards and in the form of marketing and technology services. The marketing and technology services grants are open to minority or women-owned small businesses nationwide, and those applications close June 17.
The Barstool Fund has raised more than $41 million so far from 231,000 people and had given 443 businesses support during the pandemic. It closed for new grant applications but reopened in March, in partnership with Black Rifle Coffee Co., to give out grants to businesses owned by veterans, active military and national guard members and their families who have struggled during Covid-19. Business owners can apply here.
The Inclusive Backing grant program funded in part by American Express in partnership with Main Street America will offer $2.05 million across more than 300 grants of $5,000 each to small-business owners in four distinct waves throughout 2022. The program is now accepting applications for its fourth wave to business owners the program describes as "Native or Indigenous, Hispanic or Latinx, LGBTQ+ or as immigrants, refugees or forcibly displaced." Find out more information or apply here.
America's Seed Fund is a decades-long grant program powered by the National Science Foundation. The National Science Foundation grant program, open to early-stage companies that need to prove their technology and find their market potential, has made about 3,400 awards to startups and small businesses since 2012, with 153 exits by those companies and $9.1 billion in private investment. The grant program gives out roughly $200 million per year to eligible businesses. Click here to learn more.